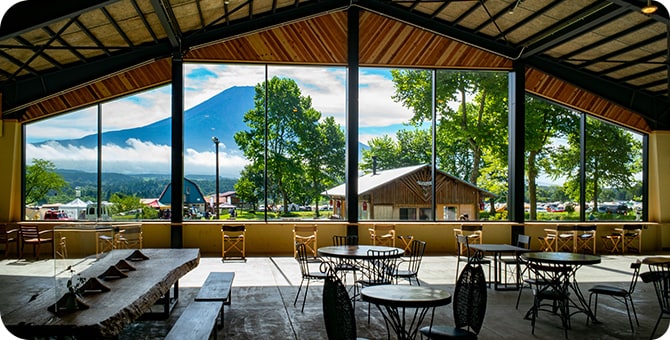 Campsite Safety Precautions
Use of bladed tools such as machetes and axes

We receive numerous reports of major hand injuries while chopping firewood. Please use log holding fixtures to prevent blades from hitting your hand. Be advised that medical facilities are a long time and distance away.

Protection of privacy

There are cases in which guests are asked to be filmed for "interviews" for posting on video sites. However, as our campsite is private property, we strictly prohibit the soliciting of such requests. Please contact the administration building immediately if you experience any harassment.

Slow down

Be careful of pedestrians and ditches when driving. Please be considerate of other users when parking your vehicle.

No driving after 5 p.m.

It is very dangerous to drive at our campsite in the dark. If you temporarily leave the campsite, please return by 5 p.m.

Noise control

Please do not disturb fellow campers. Generators and idling are prohibited. Please control your noise particularly from 8 p.m. to 8 a.m.

No open fire

Please use bonfire stands and barbecue stoves.

Camp and park outside tree canopies

The oak trees growing at our campsite are old. Please do not set up tents and hammocks and drive vehicles under these trees as doing so may damage the roots.

Put pets on leashes

Please clean up after your pet and be mindful of campers who may not like dogs.

Keep an eye on children

Spots are free and undesignated, so children may get lost when it is crowded.

No fireworks

Fireworks are prohibited at the campsite as they may cause a fire.

No drones

Drones are strictly prohibited as they may disturb other campers and cause accidents if they fall.

Avoid danger

Nature sometimes bites back. Please be prepared to protect yourself when out in the natural environment.

Wildlife

Wild animals inhabit the area around Fumotoppara. Please do not leave food in the open. Please use the garbage station between 8:30 a.m. and 5:00 p.m.
At Fumotoppara, you can feel a sense of closeness with nature great and small. However, you must keep in mind that nature bites back at times and wild animals may attack. While small creatures such as gnats and snakes; large animals such as bears and deer; plants from flowers to trees; natural phenomena such as wind, thunder, fog and rain; ponds and rivers; and everything, down to the soil and terrain, are objects of wonder, they are also threats.
At Fumotoppara, we do our best to make your experience as fun and safe as possible but cannot guarantee safety in all cases. That is why we ask you to take your part in protecting yourself, especially if you have small children.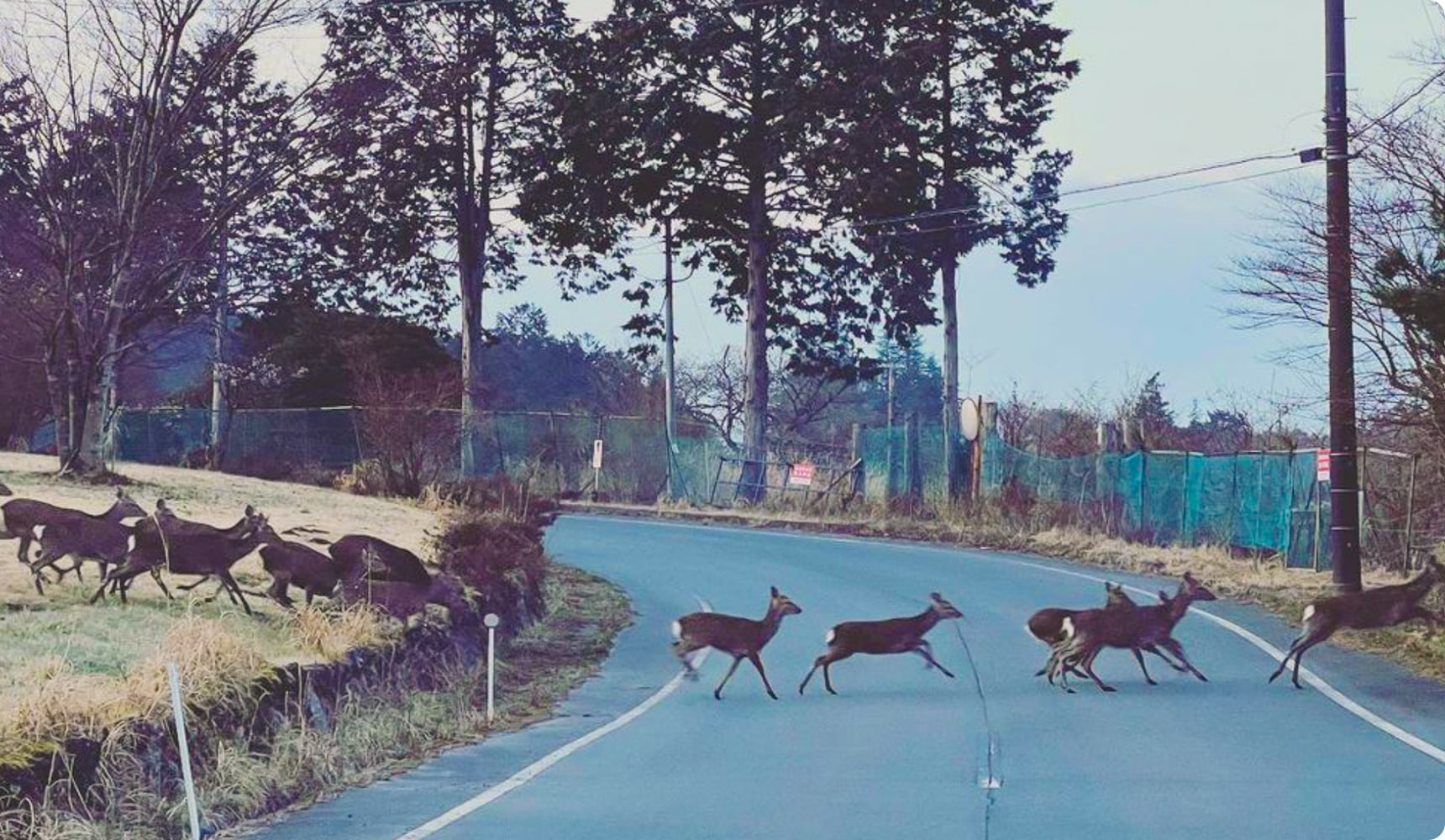 Notes about Using Our Facilities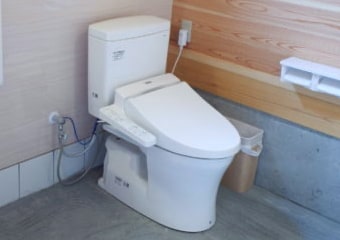 Toilet

Smoking is not allowed in restrooms.
Do not throw away camp garbage or dog waste in the trash can.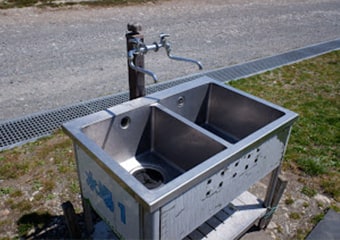 Watering station

Do not wash the bonfire stand and barbecue stove at the watering station. Please do so only at the watering station located at the garbage station.

Do not pour ashes, charcoal, leftover food, or oil into the sink.
Toilets and watering stations are public facilities. Please share them with fellow campers.
Notes about the garbage station
There is a charge for disposing garbage. Please purchase Fumotoppara-designated garbage bags (sold at the shop for 100 yen each) and dispose of it according to the rules for garbage separation in Fumotoppara.
It is prohibited to dump, burn, and bury garbage.
In recent years, a lot of garbage has been left uncollected or unsorted. Please help us keep our facilities clean.
PP strapping bands and Styrofoam

Please discard PP strapping bands and Styrofoam in the designated waste bins and flexible container bags.

Burnable garbage

Please use Fumotoppara-designated garbage bags designated to throw away burnable garbage, such as kitchen waste, vinyl, and plastic. Please do not use garbage bags designated by Fujinomiya and other municipalities.

Recyclables

Please sort glass bottles, cans, plastic bottles, gas cans, and cardboard boxes, and throw them away in the designated waste bins.

Ashes

Please extinguish and dispose of ashes in the barrel at the garbage station.
Do not leave ashes unattended at our site or inside our facilities as there is a risk of fire.

Unburnable garbage

Please take home unburnable garbage, such as grills and batteries.
A lot of unburnable garbage remains uncollected, so please help us out by taking them home.
Disclaimer
Please be advised that Fumotoppara takes no responsibility for the following matters.
Vehicle-related troubles between users
Accidents, injuries, etc. when using playground equipment, buildings, or plants
Accidents, injuries, etc. related to natural disasters, insects, and wildlife
Theft and loss
Efforts to Prevent the Spread of COVID-19
Use of camping and lodging facilities
To prevent infection, we refuse admission to visitors who have any of the following symptoms.
Cold symptoms or fever of 37.5℃/99.5℉ or higher
Strong fatigue or shortness of breath
Efforts to prevent the spread of infection
We take the following measures to prevent the spread of the COVID-19 infection to protect the health and safety of our users and uphold public health.
Limiting the number of campsite visitors
We regulate the number of reservations we take.
Drive-thru admission
We prevent contact between users and minimize contact with staff.
Users who have a fever of 37.5℃/99.5℉ or higher are not admitted.
Installation of sanitizers and automatic faucets
We provide alcohol disinfectant in toilets and other areas and are in the process of installing automatic faucets.
Cleaning toilets and watering stations with electrolyzed water
We have installed electrolyzed water generators so that we can clean and sanitize our facilities using alkaline and acidic electrolyzed water.
Installation of ozone generators
We have installed ozone generators in public spaces to sterilize the area with low-concentration ozone that is safe for our bodies.
Application of antiviral coating
We have applied photocatalyst coating at public spaces and lodging facilities to suppress viruses, etc.
Suspension of use of the public bathtub
To prevent crowding, we have suspended the use of the bathtub when the public bath is open.
Reservations
Our facilities are for use by the registered user and accompanying guests. We may refuse admission to visitors whose identity as the registered user cannot be confirmed.
Users must be 18 years old or older to register.
Minors cannot use our service alone, even if their parents/guardians have given permission.
Minors must use our service with an adult.